Discover more from Cannabitch
Reporting on cannabis culture from Southern California.
Over 3,000 subscribers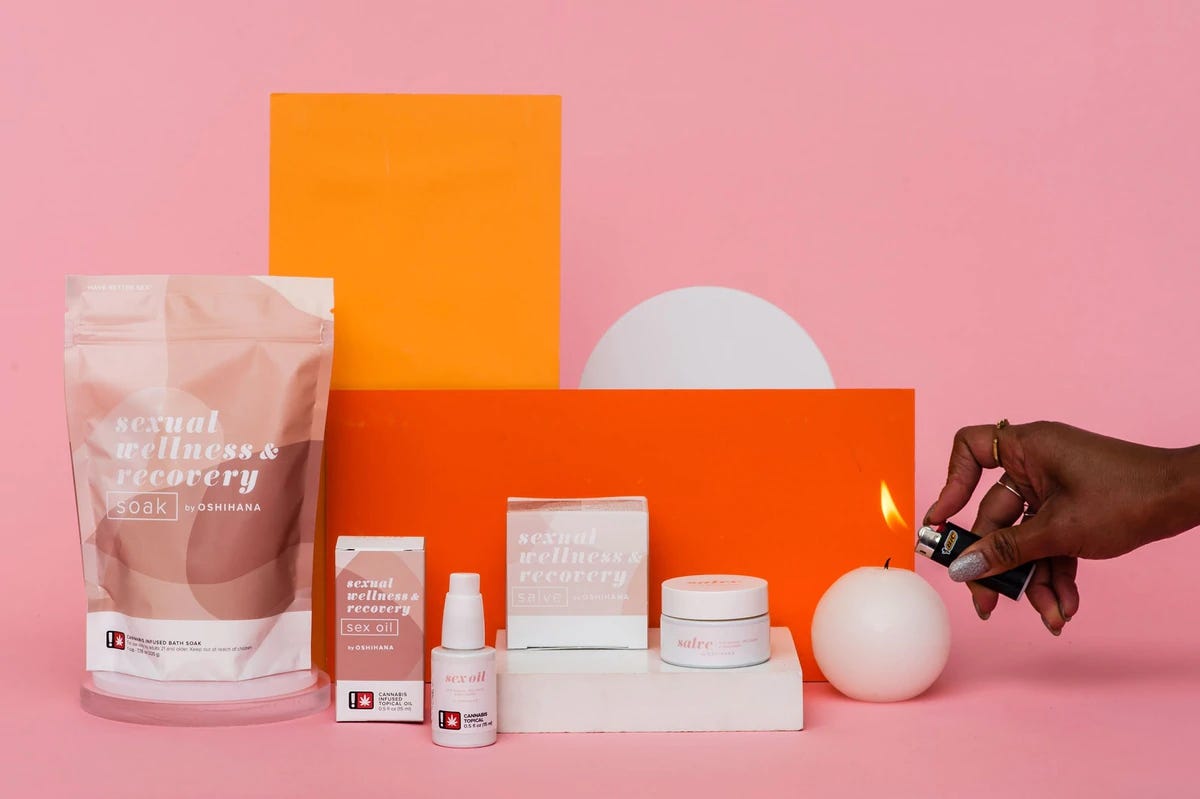 "What's that?" I asked a budtender at Circulo, the members-only cannabis club I'm a member of in Barcelona. I was last there in November 2019 at the tail end of a work trip, back when we were allowed to go to foreign countries like Spain.
"Oh!" the budtender responded, wide-eyed and with a smirk. "That's for your, you know, your…"
I stared back at him. He was going to say the word, whether he liked it or not. I was not going to finish this sentence for him. On principle.
"It's for your coño!" he finally squeaked out, referring to a slang term that essentially means "pussy." I had figured as much. After all, the small bottle containing an amber-colored oil came in a small black box with an illustration of Mary, who is also known as the mother of God, looking suspiciously vaginal. María Magdalena, it was called. Her head was the clit—the vaginal lips, her robes. Scrawled above her was the word "AFRODÍSIACO." The company name? Judas Iscariote. You know, Judas. The apostle who betrayed Jesus.
"Is very good," he assured me with a knowing look and raised eyebrows. "THC."
Being a devoted lapsed Catholic with a personal hard-on for any kind of dramatic religious imagery, it took me all of two seconds to buy it. "I'll add it to the collection," I thought to myself. And that's exactly what I did.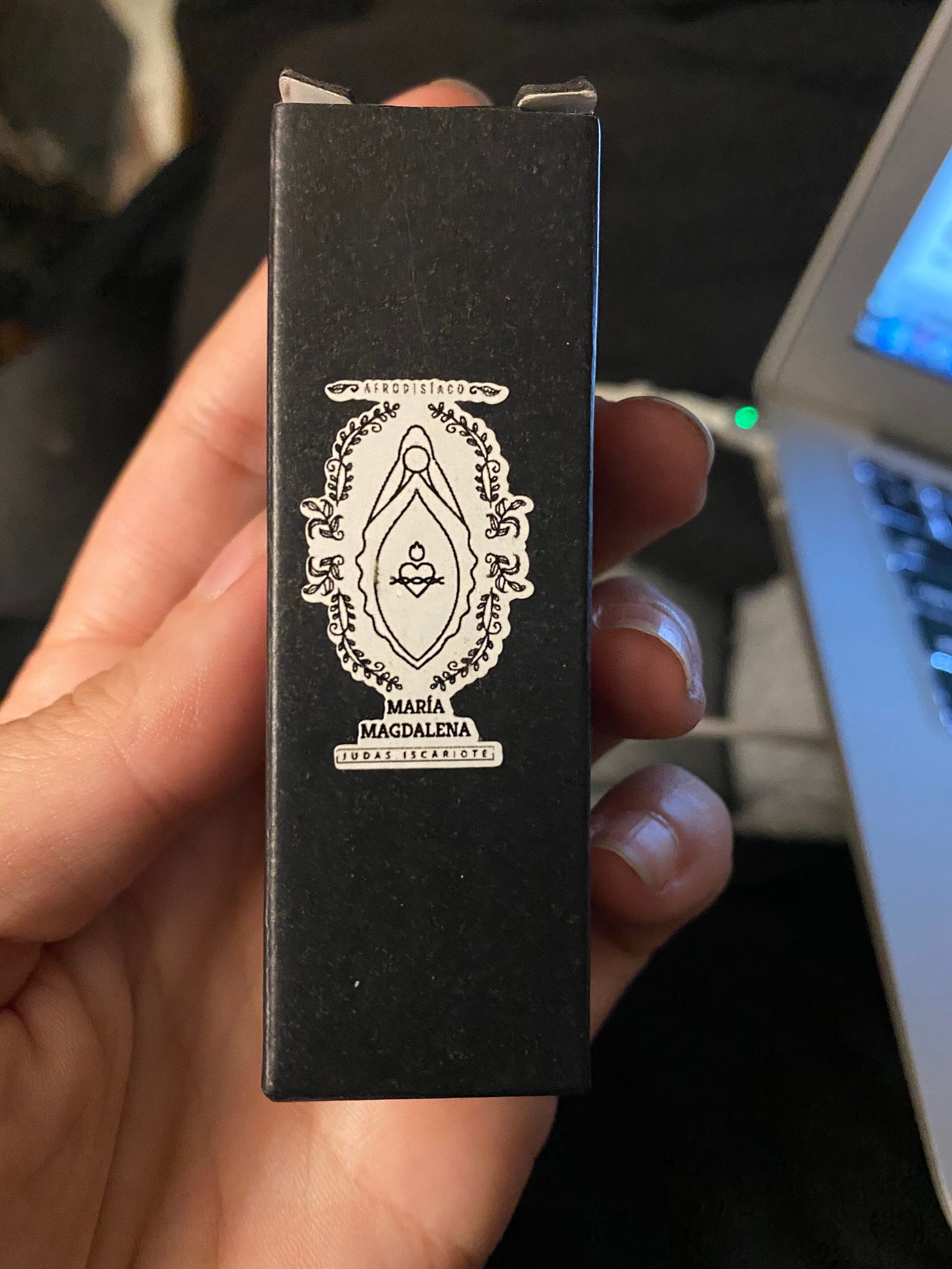 I'm not new to the world of cannabis tinctures and oils designed for use during sex. Typically, these products are referred to as lubricants, but their main function really lies elsewhere. It's more about increasing sensation, stimulating natural vaginal lubrication, and masking pain rather than providing a little extra slip and slide. I'll use lube and oil interchangeably throughout the piece, but know that they are really sensation-enhancing oils.
My entry to the category was with Foria's Pleasure oil, which contains THC. From there, I tried different oils/lubes made by Quim, Velvet Swing, Kush Queen, Her Highness, Toca, and, eventually, María Magdalena. Most of them contained THC, some were CBD-only. All give instructions to use generously over the vaginal lips, labia, clitoris, and general vaginal area. It is also recommended, though not necessarily officially, to use inside the vagina, as well.
But why is cannabis, specifically THC, good for enhancing sexual pleasure? Why add it to sex at all? If you're wondering that, first of all, you may be reading the wrong newsletter. We add weed to everything here.
That notwithstanding, it is a good question. Lindsay Wynn, the co-founder of cannabis sexual wellness companies Oshihana and Momotaro Apotheca, explains that, first and foremost, THC is a vasodilator. That means it widens blood vessels, which allows for greater blood flow and, therefore, sensation. When a sex organ is aroused it receives a rush of blood. THC as a vasodilator also shows up elsewhere in the body—it's why people's eyes become bloodshot after smoking. The conversation also focuses on vaginas because of their mucous membranes. As I once noted in an old Cannabitch from the CityBeat days that is now unfortunately scrubbed from the internet, "dick tissue isn't absorptive."
There are also CBD-only sex oils on the market. Some people swear by their efficacy, however, I personally think they're mainly effective in dulling pain and little else. That isn't a small deal—according to statistics from the American College of Gynecologists and Obstetricians, 75% of women experience pain during sex at some point in their life. Anecdotally, I know heterosexual women who have to focus on other sex acts, apart from penis-in-vagina (that's a scientific term, didn't you know?), because their vaginal and uterine pain is too much to handle. If this sounds familiar, CBD sex oils and suppositories are a good place to start.
But if arousal and increased sensation is the deal, regardless of what kind of sex you are having with whichever parts, the focus is going to be on products featuring THC. Wynn has advice for those looking to figure out which products are worth it versus those that are just jumping on the stoned sex bandwagon.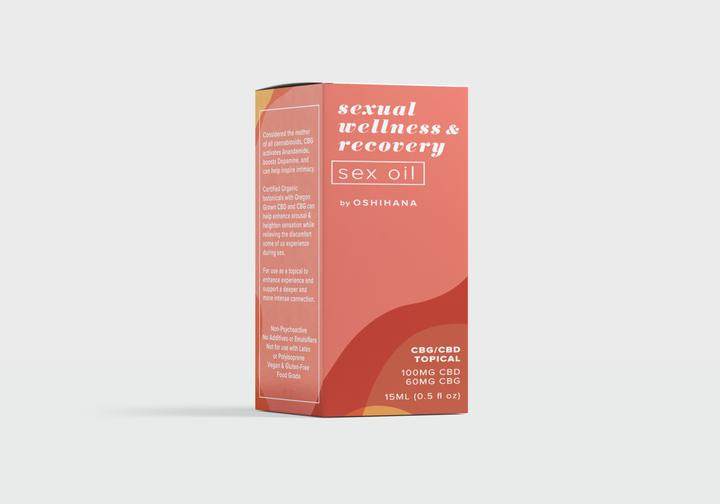 "Buyers should do their own research to compare and contrast different products—how many milligrams of CBD or THC is in the products?" she suggests. This is an excellent point—many manufacturers don't even list dosage on their website or on the package. These are companies that you should not purchase from. In general, there's a dosing sweet spot that the best companies (I consider Momotaro and Oshihana to be two of them) have determined for their own formulas, which include both THC and CBD, and are usually at higher milligrams. This will also mean the price is higher, but it's worth it because a low dose is essentially ineffective.
"You also need to examine which cannabinoid the company is claiming is in there—what are they claiming it is doing? You have to consider what part of the body you're applying to, if it's a mucous membrane or not. Usually, [cannabis sex oil] companies are claiming increased sensation," Wynn explains.
I get asked all the time if these oils work or not. Personally, I skip the CBD lubes. I know they work wonders for people with pain issues, but since I'm mainly looking for arousal, I think manufacturers claiming CBD sex oils work for arousal are peddling in snake oil. Wynn says she agrees with me. When it comes to THC, though, the results are all over the board.
Part of this is due to active ingredients—Foria's oils, for example, contain peppermint oil. Many others do, too, among other things. Obviously, if you slather that all over your pussy, it's going to tingle right away, but many users wrongly attribute these feelings to weed. The trick is to apply it 30 minutes in advance of when you're actively trying to come, which gives it enough time to absorb into the bloodstream and activate. That is going to be a whole other kind of tingle—the one you feel deep in your pelvic floor and that reverberates throughout your body. I know from personal experience. I'm not alone.
"Yes, [cannabis sex oil] works for me," says Nicolle Hodges, author of the Orgasm Book and founder of Girls Who Say Fuck (admittedly one of my favorite Instagram accounts). "In terms of physical effects, I enjoy the tingly sensation and I do feel that my clitoral orgasms are more intense—not just on the tip of the clit but also down its legs, which extend under the skin on either side of my outer labia," Hodges explains.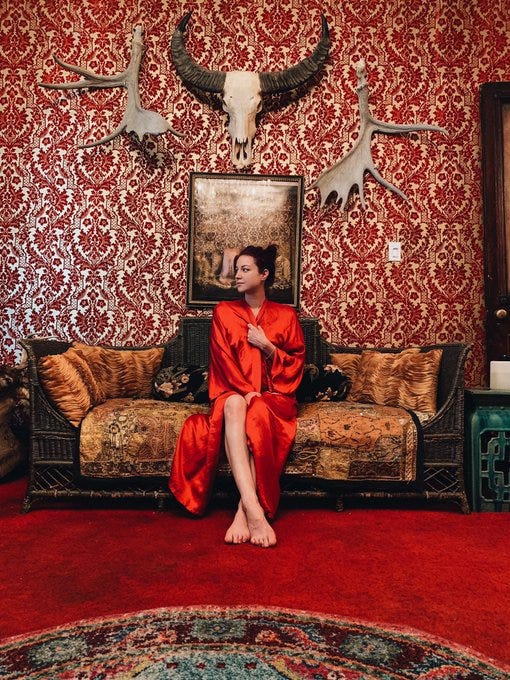 Leland Radovanovic, founder and CEO of Conscious Communications, explains how it physically worked for him and his partner after applying a high-THC cannabis lube. "After about 30 minutes, or when the lube at absorbed, we had some of the longest and most intense orgasms of our entire relationship," he says. "And, I mean orgasms, plural. It made both of us more sensitive, but not in that after-orgasm, too-sensitive type of way. More warm and full. Like feeling parts of ourselves that don't normally have discernable sensations. We did feel mildly buzzed after, but hard to distinguish that from the afterglow."
Radovanovic brings up a good point—it is possible to get super stoned from using THC-loaded lube, though it is admittedly hard to do so. Wynn tells me that you have to use a quite lot and specifically inside the vagina. The dosing also has to be high enough so there's enough bioavailability for THC to be absorbed into the bloodstream at levels that produce an intoxicating effect. When used solely on outside vaginal tissue or other parts of the body (excepting the mouth and anus), a user won't get high off of it.
Beyond physical feeling, Hodges details the manifold experiential benefits of focusing on the vagina when there is one present. "I also really like being able to use it on other women to draw attention to their pussy and worship them in an intimate moment. Psychologically, it causes you to slow down and appreciate the moment," she says.

Both Wynn and I agree with Hodges that the mental aspect is another benefit to using these oils. Rituals, in particular, are important and often overlooked parts of sex. Wynn says that the focus of the oils in her line is not just for in-the-moment sexual enhancement, but a vital part of pre- and post-care, too. "Personally, I love the ritual of rubbing it into my pussy as a way to slow down and connect with myself before sex — getting into a grounded headspace, for instance," Hodges says. But sex rituals can even extend into seemingly mundane activities.
"A sex ritual can include everything from, like, getting ready and shaving your legs to smoking a joint. Everybody has these different things," Wynn says, explaining that cannabis has a ton of psychosomatic effects.
"For example, that feeling of, 'I need to go home. I need to smoke a joint. Chill the fuck out.' And whether it's the joint or the ritual, it's probably a combination of those things that make you feel good. That's what we're responding to as humans. And I definitely think there's an aspect to that within topical oils as well. You can apply cannabis lube and just have it be another action, or you can make it part of an intimate ritual," Wynn says.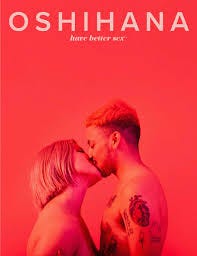 I completely agree with both of them. For a long time, I was in a relationship with a man who wasn't interested in using cannabis sex oils—or anything other than getting off via me, to be honest—as a way to connect. In hindsight, I think extended foreplay was too intimate for him. After sex, he would bolt away from me and be dressed before I even had time to get my breath back. As a result, I have explored most of these oils on my own. Since the main function of these oils isn't necessarily lubrication, but sensation, that means that they are especially useful for exploring during solo play.
Using cannabis lube is also a great way to introduce new things into the bedroom. Wynn thinks that because using a cannabis lube is similar in practice to using a non-medicated lube, it can be a less intimidating way to spice up a routine. "It's not, like, a toy or a ball gag or whatever it may be that you're into. I think there's a lower barrier to entry here. It expands the conversation," she says.
Part of that expansion is that the conversation around cannabis sex oils inherently revolves around vaginas and vulvas, or, as they are now commonly known, wet ass pussies. After all, it's the pussy's mucous membrane that's absorbing the oil and feeling the physical effects. This is particularly fascinating and exciting because up until recently, the mainstream dialogue about sex and pleasure was focused on heterosexual sex and, specifically, the man's role in and pleasure during having it. This is insane, of course—wet pussies are undeniably good for everyone involved, no matter what side of the equation you're on.
If you're in the market to buy cannabis lube—Oshihana and Momotaro's products are my favorite (Oshihana's Sex Oil, in particular). You can't get María Magdalena, so that will just have to stay a secret favorite between me and the lucky person I choose to share it with. I also like Quim's products, especially their Night Moves oil. I consider Her Highness' highly-dosed Pleasure Oils to be top of the top when it comes to CBD-only. Their THC version is also well worth a purchase.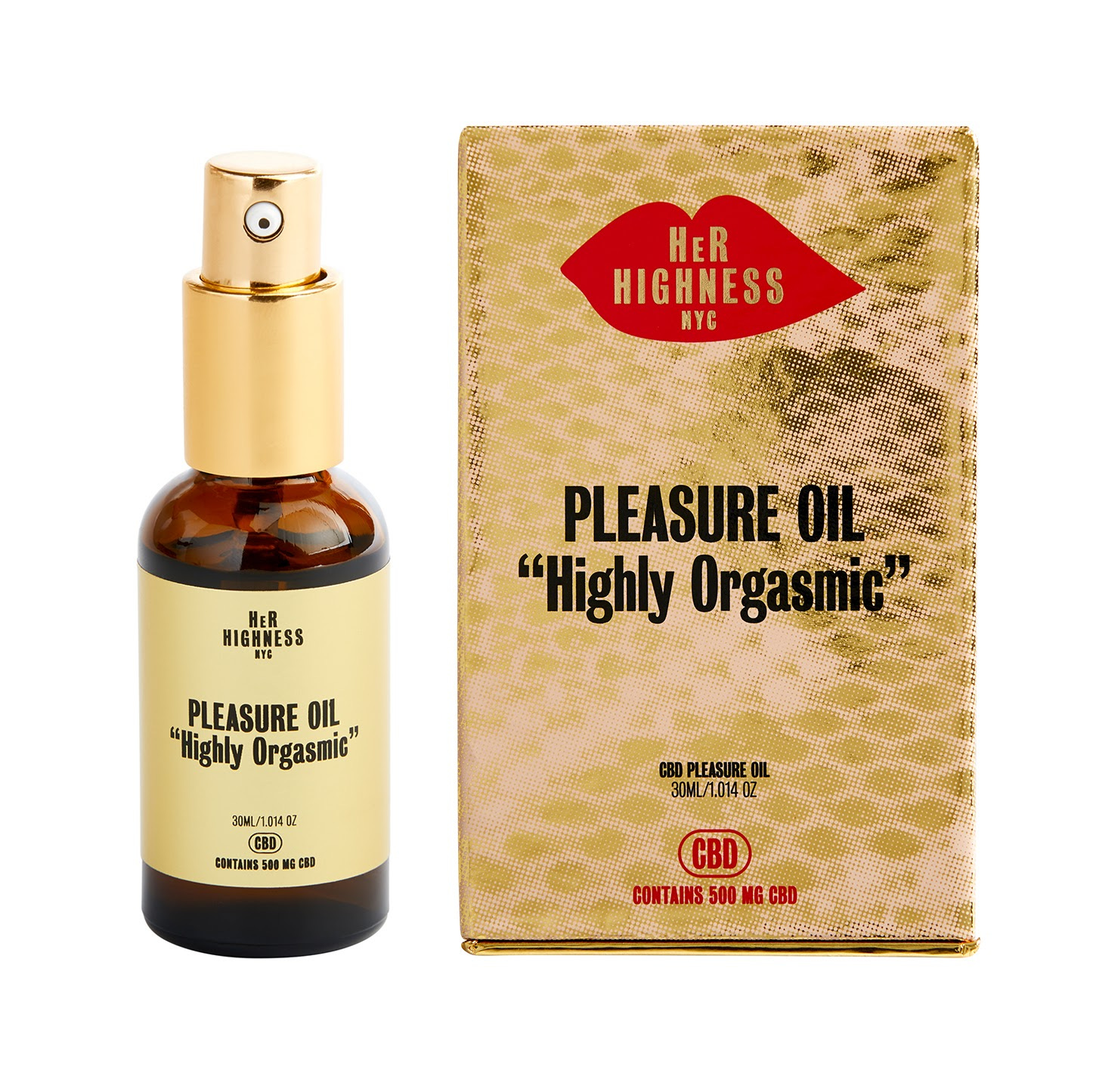 I was on NBC 7 San Diego last week talking about a boom in cannabis sales in San Diego. My commentary includes hard-hitting market analysis such as, "Weed is a popular product."
If you haven't paid to subscribe yet, it turns out that today is a fine day to do so! Thank you for being here.